HD-A, ED-0, Heart Clear, OFA JLPP Clear, V rated
Sire: Exel vom Hause Milky Way
Dam: Aska von Radkestein
Co-owned and lives with Mark and Penny Oldfather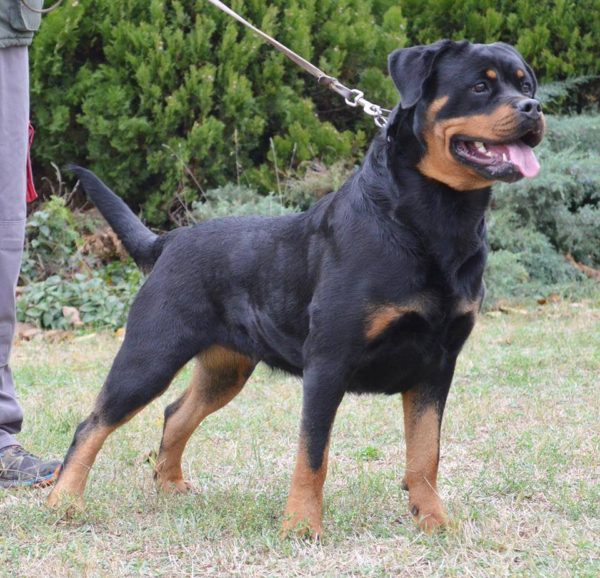 Zorba is a great granddaughter of World & Int. Ch. ES, KS, Imperator vom Haus Zschammer, SchH 2, BH, ZTP, HD-Frei, ED++.
Zorba is the granddaughter of Serbian & Montenegro Ch. Rambo vom Zica Maradona, IPO 1, BH, Ztp, HD-A, ED-1
Zorba is a large female with an excellent frame.  She has a super solid topling and good angles.  Zorba has a deep, well sprung chest and broad back, who is a very intelligent Rottweiler.  Zorba is one of the sweetest and gentlest Rottweilers I have ever seen, yet she is very protective of her co-owner Penny, who she loves to be near.
Zorba has dark, rich color and clean markings on a super short, tight coat.  She has a gorgeous feminine head with very dark eyes, black mouth pigment and lips, good stop definition and her ears are well set and well carried.
Zorba will be bred to 2016 Landesgruppe Chicago Sieger & Serbian Ch. Polo von Hause Kigen, IPO I, BH, HD-A & ED-0, OFA Cardiac & JLPP Free Certified
From this litter I expect, Excellent Heads, Beautiful rich mahogany markings that are very clear, and large strong bones.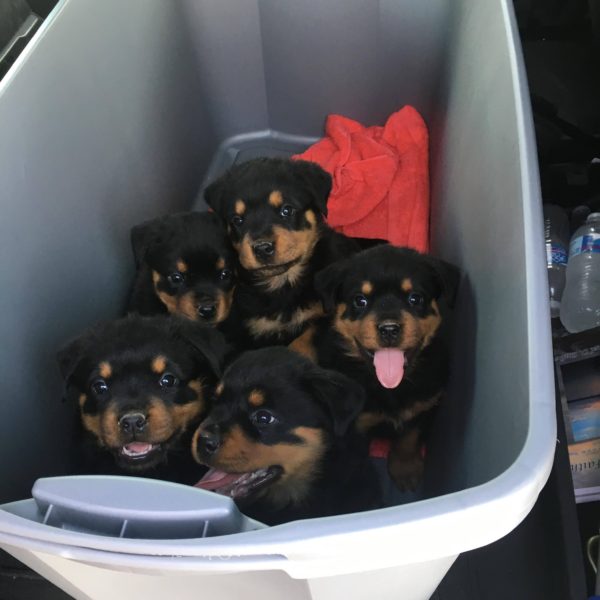 Puppies from Zorba's first litter (click to enlarge images)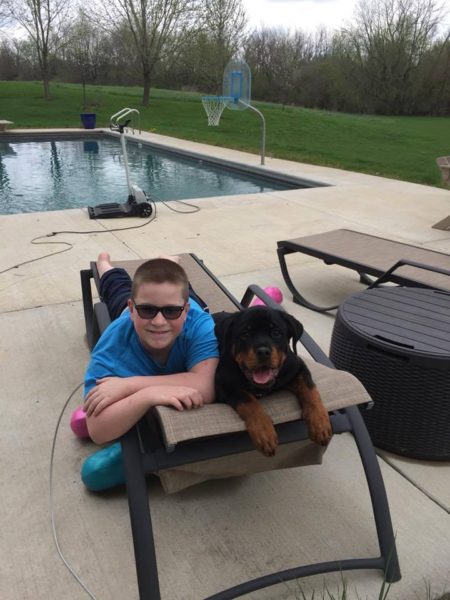 Pictured above is Zorba's daughter Stalter's Magnolia with her best friend Mason.
Sire: Young & Adult Ch. Roki von Hause Kigen, IPO I, BH, HD-A, ED-1, Heart & JLPP Clear, Candidate for International Champion, High: 68cm (26¾ inches), Weight: 60kg (132 lbs), Eyes 1B
Father: Multi Ch. Xedor von der Alten Festung, IPO I, BH, Ztp, HD-A, ED-0
Mother: Ch. Una von Hause Kigen, IPO I, BH, HD-A, ED-1, producer of multiple champion and IPO titled and Best in Show Rottweilers
Roki's show record
V5 Open class at IFR World show 2017 ,Judge: Tatiana Burdina
V1 Open class at Bulgarian Specially show 2017, Judge: ADRK Anton Spindler
V1 Open class at Semberia Sieger show 2017, Judge: Vladimir Zec
V2 Open class at Serbian Klubsieger show 2017, Judge: ADRK Peter Friedrich
V1 Jugend class & Vice Amberg Jugend Sieger 2016 , Judge: ADRK Rudiger Schmidt
V1 Jugend class & Best Young male & Ausland Jugend Sieger winner & Young BOB at Laszlo Fekete specially show Hungary 2016, judge ADRK Uwe Petermann
V rated 12-18 months at 2016 ADRK Klubsieger 2016, Judge: ADRK Edgar Hellmann
V1 CAC + R.CACIB at CACIB Kragujevac 2017, Judge: Miomir Marcic
V1 CAC + CACIB Best male at CACIB Bogatic 2017
V1 CAC + BOB at CAC Velika Greda 2017
V1 Best Young male + Y.BOB + BOB and R.Yunior BISS at National show Surcin
V1 Best Young male + Y.BOB + BOB at National show Pancevo
V1 Best Young male at National dog show Valjevo
V3 Jugend classe at Tompa Sieger show, Hungary
More photos of Magnolia: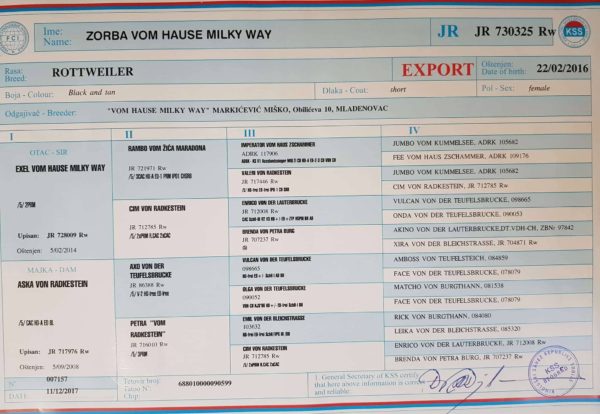 (click to enlarge image)
Polo and Zorba will be a distant but very strong linebreeding on these 2 outstanding Rottweilers, 28 times for Benno and 26 times for Bea in 9 generations.
American, International, European, and World Champion, 87 BJS, 88 Aus. BS, 90 ES, 90 WS, 1996 USRC Club Sieger, ARC Gold Producer, Benno Von Der Schwarzen Heide, SchH III, IPO III, FH, AD, ZTP, CGC, TT, HD-Frei,OFA Good Hips, Eyes, Heart Certified.
Int. Ch., KJS'88, BJS'88, BS'90'91'92, O-BS'91, Bea von der Teufelsbrucke, SCH III, IPO III, FH, AD, IPO III, HD +/-, Gekort.
Benno is one of the top producing Rottweilers in the history of the breed; producing some of the best Rottweilers in the world.
Bea is the only female to win the German Bundessieger three years in a row.  She is also one of a very few females who attained high recognition in the show ring and also equally high accolades on the working field, and then went on to reproduce these outstanding qualities in her children, grandchildren and descendants, where she has left a lasting legacy in her outstanding progeny.