Stalter's Freya is a large female standing 62 cm and weighing 42 kg with 1A eyes.  Freya is also a very friendly rottweiler with drive, spirit, and heart.  Freya has lived in our home since she was 8 weeks and 1 day old.  Freya is an outstanding protector, having been trained to be a personal protection dog.  Having retired from the Illinois Department of Corrections, I know what the criminal element is capable of so I have trained Freya to be protective of her home and family.
Freya is now retired as a mom after having one litter, but she is still working as a personal protection dog keeping her home and family safe.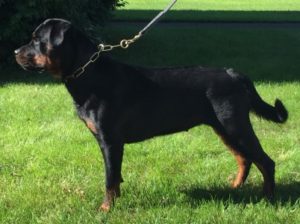 Both of Freya's parents have OFA Excellent hips and Freya has OFA Fair hips.  Freya's dad Bobby vom Wachberg is the 2006 Osterr. Jugend Champion, 2006 Osterr. Ausstelungssieger, and the 2006 ADRK Bundesjugendsieger.  Bobby is also a Multiple V-1 Winner and Multiple Best of Breed Winner.  Bobby is 67 cm tall and weighs 63 kg with 1B eyes.  Bobby's dad is VDH Champion, DK Champion, 2005 Denmark Klubseiger, Odo Vom Fleischer.
Freya's mom Tatyana vom Drakkenfels is multiple V rated standing 61 cm tall and weighing 46 kg with 1A eyes.  Tatyana's dad is Voss du Clos Lenka who is a competitive working Rottweiler having competed in multiple IPO championship trials placing as high and 2nd and 3rd in successive years, below is a listing of some of his scores.  
February 03, 2007…………..VPG I – 90,72,91a
November 18, 2007………..VPG II – 99,82,94a
December 08, 2007……….VPG III – 92,89,94a
June 11, 2008…………………VPG III – 87,92,90 DVG Nationals 2008
October 17, 2008……………VPG III – 87,86,97 ( 3rd) USRC Nat. Schutzhund Championship
February 2009………….VPG III – 96,89,100 (qualified for the DVG Nationals 2009)
March 22, 2009…………VPG III – 97.91.100a judge Roland Seibel ADRK
June 2009…………………VPG III – 90,71,94 DVG Nationals (Aurora) ….photos
Septemeber 11, 2009……………… VPG III – 70.87.85 – IFR 2009
October 25, 2009…………….. VPG III – 91.83.84a (2nd) USRC National Schutzhund Championship
September 12, 2010……………… IPO III – 80.70.74 IFR 2010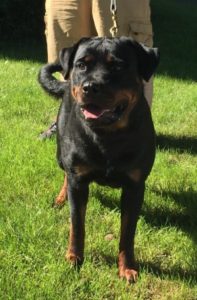 As you can see Freya has outstanding bloodlines and if you will look at her pedigree you will see why she will produce outstanding Rottweilers who will make excellent family members who are beautiful to look at and have the working potential to thrill anyone watching them work.

Freya will be bred to Ch. Polo von Hause Kigen, IPO I, BH, which should produce large boned and solid working rottweilers, with a stable personality and a friendly attitude.  Please contact me if you are interested in a puppy from either one of these breedings.  These pups will come with a guarantee to pass the OFA along with a 5-year guarantee against death from a heart attack or cancer.
***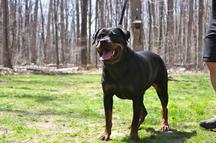 ***
***